Did you know that leaks inside your toilet can waste up to 200 gallons of water per day! You can easily detect a leak by adding just a few drops of food coloring or dye tablets available at the WCID #1 Customer Service office to the water in your tank. Just follow the simple instructions below. If you find a leak, please have it repaired as soon as possible.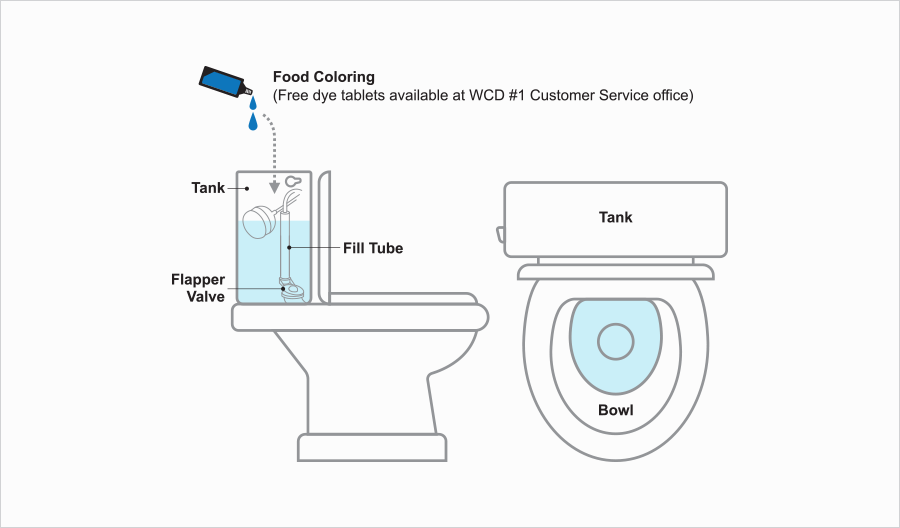 Track Water Usage and Leaks Online: Once your new Smart Water Meter is installed, you can track water usage and sign up for leak detection alerts online with the Eye on Water app, available for PCs, MACs, iPhones and Androids. Download the app from the App Store or Google Play or create an account on your computer at EyeOnWater.com/SignIn. (You'll need your service or billing ZIP code and the account number found on your water bill to sign up.)
Repairs: Problems with plumbing fixtures may be due to old age and corrosion or wear and tear. Replacement or repair parts can be purchased at a local hardware store or plumbing supply store. You can make repairs yourself or hire a plumber.
More about Smart Water Meters and installation progress: WCID1.com/Water-Meter-Project
Little Leaks Waste Big Amounts of Water
Did you know that a dripping faucet can waste 200 gallons a day? These leaks waste your water and your money.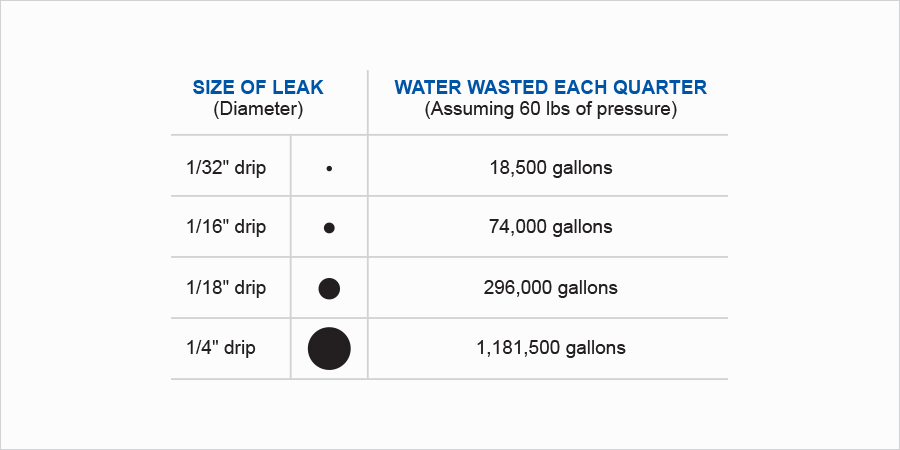 Household Plumbing Tips
Test the toilet by dropping a few drops of food coloring or dye tablets into the tank. DO NOT FLUSH. Leave 15-20 minutes. If the water in the bowl turns the color of the food coloring, then it's possible you have a leak and repairs must be made.
Leaks are normally caused by a bad flapper valve, flapper valve seal, a bad ballcock valve, an improperly positioned float arm or defective overflow tube. The number one cause of toilet leaks is a worn flapper.
Faucet leaks are easy to detect. If it drips or worse, continues to keep running after you shut it off, it is usually caused by a worn-out brass 'seat' or worn rubber seal.
Water dripping or running from the shower head when the shower is turned firmly off is usually caused by bad washers or seals in the valve. These washers and seals need to be replaced.
A simple web search for a YouTube video can show you how to replace a toilet flapper or faucet/shower valve for very little money.